China Mobile has 42 million unofficial iPhone users, presenting huge opportunity for Apple
9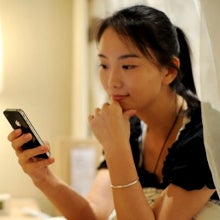 Apple already has 42 million of its iPhones meandering on the largest carrier in the world China Mobile, statistics show, and that's even without an official launch. This means those tens of million of iPhone users can only use their handsets in 2G mode, with very slow data connection, due to the unique TD-SCDMA network tech that China uses.
The new
iPhone 5s
and
iPhone 5c
, however, supports TD-LTE now, and when China Mobile lights up its 4G network, likely in November,
Apple is said to start offering the iPhone 5s
in stores for what will be a monster untapped market for it. If 42 million people in China gave hundreds of dollars to purchase an iPhone off-contract and then put a China Mobile SIM card in it, we can only imagine most of them will be flocking to the carrier stores when they start carrying the iPhone 5s subsidized. We'd wager to guess also that a bunch of newcomers from the carrier's 740 million subscribers will form a nice little chink of change for Apple there, too.