Check out the iOS 7 camera filters and video zooming in action
11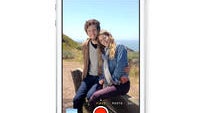 The camera interface is among the many things that Apple chose to redesign with iOS 7. And now that we've taken a look at it first hand, we're pretty content with what Jony Ive and his team have crafted. The new UI is pretty much as simple as it has always been, yet makes taking photos with your iPhone or iPad even more fun.
Eight camera filters are available in the iOS 7 camera interface, available at the tap of a button. By automatically fine-tuning settings like image saturation, brightness, contrast and hue, they alter the image giving it an artistic or vintage look. The user is presented with a live preview of each filter in action as the frame is being taken, and in case they want to apply one to a photo after it has been already captured, that is totally possible via the image editing menu.
Another cool thing you can do with iOS 7 is to zoom in and out while shooting video. That is done with a pinch-in or pinch-out gesture. Unfortunately, the zoom is of the digital kind, so those close-ups may result in image quality degradation. The option to snap photos while shooting video is present as well, but these shots are still taken at a resolution of only 1920 by 1080 pixels.
That's pretty much all that's new in the iOS 7 camera interface. Now feel free to take a look at the samples we took using an iPhone 5. How do you find the new filters?