Check out the Xiaomi Mi Note's magical, Samsung-like dynamic contrast adjustment feature in action
10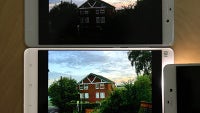 When Chinese superstar Xiaomi announced the
5.7-inch Mi Note
, it touted its display's ability to dynamically adjust contrast depending on your surroundings. Dubbed 'pixel-level dynamic contrast adjustment', the feature of the JDI-made screen artificially increases the contrast of the image, which
could
be handy when viewing overly dark or bright scenes. That is, the gap between the blackest black and whitest white becomes wider than originally available with an image or video.
As far as the tech behind it goes, dynamic contrast is nothing really new. Samsung's Galaxy S5, for example, offers a similar feature, and while sticklers for color accuracy often frown upon it, the general public usually digs the effect. A short comparison, orchestrated by the folks over at Chinese
MyDrivers,
showcases just what the Mi Note's 'pixel-level dynamic contrast adjustment' does in reality. To do so, a flashlight is used to simulate a bright outdoors scenario where the sun is shining right at the device's ambient light sensor.
In case you're wondering how a typical display handles such scenes, you can zoom into the used images available in the gallery below and test them out on your own device. The difference is pretty noticeable.