Carriers hesitant to allow Obama or Romney campaign contributions via texts, too much hassle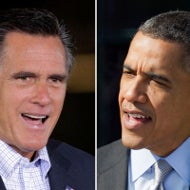 Verizon, AT&T, Sprint and T-Mobile might differ in many things but they have unanimously decided that implementing a system to allow political campaign contributions via text message is not worth the hassle.
We text for many causes or even reality shows, but campaign finance is mired in red tape, and supervising such a system apparently requires more resources than the process might be worth for subscribers. While the Federal Election Commission gave the green light for texts to donate to a political campaign, there are a number of regulations and exemptions, like, for example, foreign nationals not allowed to donate, and that sounds like trouble for carriers, say anonymous sources.
Given the approvals of Super PACs which can basically give unlimited amount of dough, the upper $200 restriction for political donations via texting from a single number might not seem like much, yet FEC members from both parties were unanimous in approving the practice last month.
The last hurdle are the carriers, though, and they are certainly looking at the FEC's advisory from all angles. "
At this stage, it's not clear that telecoms are anywhere close to coming to terms of what's going to happen here. I don't think this is anywhere near being resolved,
" said one telecom exec.