Carphone Warehouse offering free airline tickets to customers buying a Palm Pre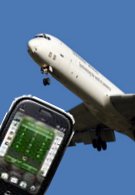 The Palm Pre had a successful launch over the summer, but its diminished sales placed Carphone Warehouse in an unusual situation. Facing an insurmountable stockpile of Palm Pre smartphones, the UK based company is doing all it can to try and surge their Palm Pre sales. This includes enticing prospective buyers with two free airline tickets for anyone willing to purchase Palm's first WebOS powered handset. This deal won't last forever, unless we'd imagine sales don't meet their expected levels, and will carry on throughout the month of January.
One factor playing a key role in Carphone Warehouse's mountain high levels of unsold Palm Pres is that it's only available through O2. Sure the price tag of being free with a contract with O2 sounds good enough, but Carphone Warehouse is going the extra step by providing these free airline tickets. The deal sounds tempting enough – hopefully those Palm Pres sitting around will find a home soon.
Palm Pre Specifications
|
Review
via
Unwired View