Carphone Warehouse has the Google Nexus S selling for the outright cost of $313 (£200)
1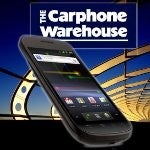 Now that the Samsung Galaxy Nexus is making its presence known around the world, its older sibling in the
Google Nexus S
is being given a new price point to make it very easy to pick up without the need to sign a contract of some sort.
Actually,
Carphone Warehouse
previously had the Google Nexus S selling for
$313 (£200)
not too long ago, but not surprisingly, they quickly sold out of the device. Fortunately, it looks as though they've been able to replenish their stock, and now it's once again made available for purchase. Of course, the entire deal is even sweeter because it's a
SIM-free version
of the Google Nexus S that they're selling. Meaning, all you need to do is pop in your SIM, and voila, it should work with any GSM-based network out there.
source:
Carphone Warehouse
via
Android Central