Carly gets some attitude as T-Mobile revamps its marketing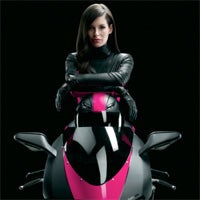 T-Mobile is gearing up for a refresh of its advertising by giving its spokesperson, Carly, a helping of attitude. In its new commercial which is set to debut soon, Carly will toss aside her trademark dress in exchange for leather and a Ducati motorcycle.
The ad, dubbed "No More Mr Nice Girl", is the beginning of the carrier's major re-branding effort.
"
We're working toward a brand refresh later in the year
," T-Mobile senior VP Peter DeLuca said in an interview with AllThingsD. "
We really can't wait until the end of the year to make some noise in the market.
"
The campaign will be bankrolled by a $200 million incremental boost to T-Mobile's advertising spending. In addition to traditional TV spots, T-Mobile will also be allocating fund to advertise on Hulu and YouTube.
In what may be a slight nod to the Smoked by Windows Phone campaign idea, T-Mobile will also launch a "test drive" website where it will show its devices performing favorably against competing handsets. Considering T-Mobile was left out of the iPhone party after the failed AT&T sale, we're guessing the iPhone will definitely be a target.
While T-Mobile is looking to cut costs such as reducing call-center jobs and playing with the idea of selling its U.S. cell towers, it is making a huge effort to rebrand itself and win back consumer interest.
DeLuca added, "
We really want to set the record straight and say to the consumer they really should be taking a second look at T-Mobile.
"
source:
AllThingsD