Canadians don't leave home without their smartphone
2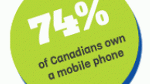 An infograph using stats from CWTA's "2012 Cell Phone Consumer Attitudes Study, comScore and others reveals the
smartphone tendencies of Canadians
. 74% of Canadians own a mobile phone and of those, 48% have a smartphone and 20% own a tablet. 79% of smartphone owners don't leave home without their handset. About half of Canadian smartphone owners want to use their phone to store membership cards while 47% want to store transit cards on their device.
The infograph was produced by Big Fish Media, a Canadian mobile marketing agency, which is why the stats are skewed toward mobile business. For example, 43% of Canadian mobile phone owners don't mind if you send them coupons based on their location. What is interesting is that there are some people who don't mind getting coupons on their phone, but
only 13% of Canadian mobile phone users want advertisements
sent to their handset.
70% of Canadian smartphone owners have downloaded an app but only 20% have made a purchase on their phone. The good news for smartphone manufacturers is that there seems to be a large number of Canadians that have yet to move up to a smartphone giving them
a huge market to aim for
.
source:
MobileSyrup