Cambridge Audio's Minx Go Portable Wireless Speaker keeps the music flowing for 18 hours straight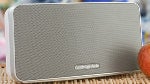 Don't let its diminutive size fool you, especially when it's placed next to its bigger sized siblings in the
Air Minx 100 and 200 speakers
, but Cambridge Audio's latest entrant in the Hi-Fi spectrum, the
Minx Go Portable Wireless Speaker
, is making noise of its own. Audio fanatics need to be aware about this one, seeing that it's gunning to win the hearts of those who are shopping around for a sweet portable Bluetooth speaker of some kind.
First and foremost, this speaker is packing some serious firepower inside of its casing – so don't let its size fool you! In fact, the Minx Go utilizes a
5-speaker array
to deliver precision and authority with its audio quality. Complementing its robust features set, it's also packing 2 titanium tweeters, twin 2-inch woofers, and its own rear-mounted Active Bass Radiator (ABR) system to give the tones out of this little fella some serious power.
Aside from being able to stream your music collection to the Minx Go via Bluetooth connectivity, there's also an aux-in port to hard-wire other gadgets to it. And if that's not enough, it's almost mind-boggling to see that there is rated by the manufacturer to offer continuous playback for up to
18 hours
! Mind you, there's also a full-sized USB port in the rear that also allows users to charge their devices while simultaneously streaming some music goodness.
All in the all, Cambridge Audio is really making an aggressive attack in the portable Bluetooth speaker market with this, especially when it's flaunting a price point of
$149
from the get-go.

LONDON – June 6, 2013 – Cambridge Audio, a world-class acoustic design team with decades of Hi-Fi audio innovations, debuts Minx Go, a high performance, portable Bluetooth speaker with deeply expansive, crystal clear audio.

Like every Cambridge Audio product, Minx Go was created by the company's own design team based in London. Minx Go is acoustically loaded with an array of five premium quality speakers and the latest Digital Signal Processing (DSP) technology to deliver massive power from the smallest possible footprint with sound that really fills your room with music. Perhaps most impressive is the amount of detailed bass that Minx Go pumps out thanks to the Bass Radiator neatly integrated into the rear panel.

Minx Go boasts a battery life of up to 18 hours, twice that of some competitive products, and only takes two hours to fully charge. While Minx Go is refuelling, it can charge a tablet or phone with the onboard USB charging port. Minx Go works with any phone, tablet or computer that supports Bluetooth including iPhone, iPad, Android smartphones and tablets, or just about any MacBook or laptop PC. Just pair with Minx Go, play your music and enjoy. Minx Go remembers up to 8 previous phones, tablets and computers so family and friends can easily connect and enjoy their favorite music.

Minx Go Technology
•5 speaker array delivers every note with precision and authority:
◦2 Titanium tweeters for exceptional crisp detail
◦Twin 2" woofers for pure and natural vocals
◦Minx Go's rear-mounted Bass Radiator (ABR) goes really deep and low and gives the impression of a much bigger system
•High performance integrated lithium-ion battery offers an incredible 18 hours of wire-free music playback (at background listening levels)
•Digital Signal Processing means consistent performance, whatever you're listening to and however loud you're listening. Unlike other portable systems, your music stays distortion-free, even at top volume
•On board Digital to Analogue converters squeeze maximum detail from your streamed music before it's processed into the sounds you hear
•A rear mounted Auxiliary connection lets you boost the performance of your iPod, TV and Blu-ray player too
•Acoustically damped construction – Minx Go's subtle design conceals a host of neat features to maximise the quality of your music. Beneath the scratch resistant high gloss lacquer, Minx Go's acoustically damped cabinet is designed to eliminate vibration and distortion – even at high volumes

Available in high gloss black or white, Minx Go comes complete with a travel pouch and is available direct from www.cambridgeaudio.com or from Cambridge Audio specialists for $149.00.

Cambridge Audio store directory: http://www.cambridgeaudio.com/dealers

For images and tutorial videos, visit www.cambridgeaudio.com


About Cambridge Audio

Cambridge Audio has a rich history of developing innovative products designed to harness every last drop of detail from your favourite music and movies.

Every product bearing our name is created at our London research and development centre by a team of incredibly passionate and committed engineers with a vast array of live music and sound production experience.

Whilst the way we enjoy home entertainment has changed dramatically over the years, neither time nor new technology can ever dampen the emotional power of a perfectly reproduced song or favourite movie soundtrack. Fuelled by your passion for music and movies, Cambridge Audio products are created by people who genuinely want to deliver the most captivating entertainment experience for the very best value possible.

Testament to the trust and self belief we have in ourselves, we actively encourage press reviews of all our products and if you look at any of the leading home entertainment press, you'll see that Cambridge Audio is consistently recognised for its immense performance, innovation and value.


source:
Cambridge Audio