Cambridge Audio's Minx Air 100 & 200 AirPlay enabled speakers don't mess around with audio quality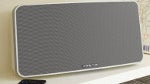 The name might not sound familiar to many people, but if you're a Hi-Fi aficionado, you've probably heard of the company called
Cambridge Audio
, a company that's been around for decades dealing with Hi-Fi audio innovations. Well, they're entering the smartphone space in a way, by introducing its brand spanking new
Minx Air 100 and 200 AirPlay enabled Bluetooth speakers
. Quite frankly, they're not messing around when it comes to audio quality, as they both feature a total audio output of
100 and 200 watts
respectively. The more we think deeply about it, the figure is undoubtedly noteworthy for the fact that it's grazing the premium end of the market.
First and foremost, the Air Minx 100 and 200 speakers combine many aspects that broaden its usage – like boasting integrated AirPlay, Bluetooth connectivity, and a dedicated buttons to instantly jump between an array of internet radio stations. For those who happen to own an iPhone, they receive the benefit of AirPlay, which allows it to play music from any device in your home that uses iTunes. And if you happen to use another device, say an Android or Windows Phone, you can still connect them via Bluetooth.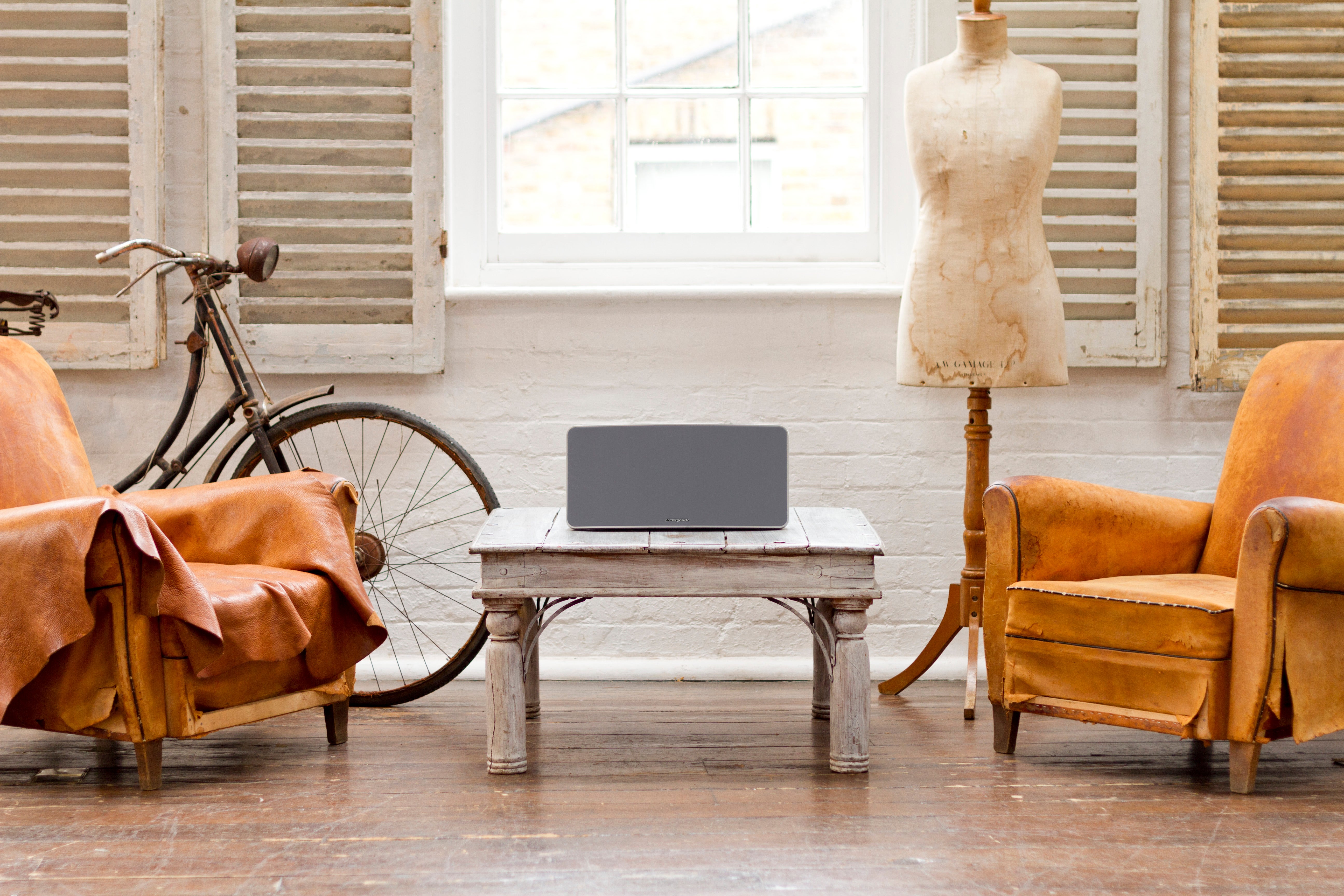 Cambridge Audio Minx 200
Visually, the Air Minx 100 and 200 wireless speakers look like the rest of the bunch in the premium segment of the audio market, but it's under the hood where its cost is truly justified. Specifically, the Air Mix 200 tucks away a 200W set of digital amplifiers – with its own
built-in active 6.5-inch subwoofer
to really give its audio output that thumping quality. Stuffed with some serious hardware, everything is somehow encased within its
18-wide frame
. Aside from the hardware, there's also some background techonolgy, such as high efficiency digital amplifiers and its 24-bit Digital Signal Processing (DSP), to recharge its overall audio quality.
As for the Minx Air 100, the only difference is that it produces a total power output of 100 watts – and the fact that its cabinet is smaller at
14-inches wide
. Naturally, the Minx Air 100 is recommended for smaller spaces, while the Minx Air 200 can brighten up larger halls with its heart pounding tones. And finally, there's the matter of pricing, which is
$449
for the Minx Air 100 and
$549
for the Air 200. Certainly a hefty investment, but if you're all about audio quality, this is sure to impress you over other sub $200 wireless speakers out there.

LONDON – May 22, 2013 – Cambridge Audio, a world-class acoustic design team with decades of Hi-Fi audio innovations, debuts Minx Air 100 and 200 - two powerful, compact wireless speaker systems designed to play music from just about any phone, tablet or computer in superb, Hi-Fi quality. This marks the first time a Hi-Fi wireless speaker boasts integrated AirPlay, Bluetooth, and built-in Internet Radio.
Benefiting from Cambridge Audio's vast Hi-Fi expertise, audio quality is simply stunning. Minx Air 100 and 200 are designed to deliver maximum possible detail from stored tracks and streaming services. Patented BMR (Balanced Mode Radiator) speakers create a rich sound that's more room-filling than similar-sized traditional speakers. BMR's unique, hybrid design of pistonic and flat panel technology ensures you never have to find the "sweet spot" to enjoy your music. Meanwhile, a custom-developed digital amplifier guarantees heart-thumping performance, even at top volumes.

Minx Air also features sophisticated Digital Signal Processing (DSP) using advanced algorithms developed for music and movie production by Waves Audio. This not only allows Cambridge Audio to get the biggest sound possible from Minx Air's compact enclosure, but delivers an experience that's louder, crisper and fuller than other portable systems.
Minx Air's sleek, contemporary case doesn't just look great, it's also solidly built to acoustically optimise the sound and eliminate distortion. Even the carrying handle stealthily acts as a bass port to improve deeper notes. Created to blend seamlessly with its environment rather than take over, Minx Air's organically contoured design is one of simplicity and subtlety. Its white lacquered, scratch resistant cabinet is complemented by ergonomic, soft-touch controls and is sure to look the part in any living space.
Using Apple's AirPlay wireless system, Minx Air will simply connect to your iPhone, iPad or iPod Touch, as well as computers running iTunes. However, Minx Air isn't just aimed at owners of Apple devices, it instantly connects with any Bluetooth enabled phone, tablet or computer so everyone can share their music, regardless of make or model.
For radio enthusiasts Minx Air also features integrated favorite internet radio buttons for easy access at the touch of a button. For those looking to discover new stations, the Minx Air app – for Apple or Android – opens up access to 20,000 tried and tested stations from around the world. Once presets are saved on one smartphone or tablet, they'll also be available to other devices with the Minx Air app installed.
The Minx Air app offers way more than preset control and allows volume adjustment, bass control and access to a range of EQ settings to tailor Minx Air's sound for any room. It also contains a tutorial for easy installation as well as step-by-step videos to simplify everyone's set-up experience, whatever device they're connecting. And to ensure everyone can access Minx Air with ease, Cambridge Audio includes a remote that controls of power, presets, volume and bass.
But it's not just about streaming, both Minx Air systems also have direct connections on the back so you can hook up your TV or Blu-ray player and make the most of Cambridge Audio's legendary audio performance.

In more depth…
- Minx Air 100 – Ideal for kitchens, bedrooms and living spaces, Minx Air 100 packs a punch with 100W of power from a cabinet just 14" wide. - Minx Air 200 – Easily filling the largest rooms with crystal clear audio, Minx 200 boasts a 200W set of digital amplifiers, plus a built-in active 6.5" subwoofer offers a supercharged audio experience still only measures a modest 18" wide - AirPlay connection – Apple's wi-fi streaming technology means you can play high-quality audio from your iPhone, iPad or iTunes simply and wirelessly - Bluetooth connectivity (and enhanced Bluetooth) – Stereo Bluetooth is found in all tablets, smartphones and nearly every laptop or MacBook. Minx Air supports the Standard Bluetooth CODEC (SBC) as well as two superior sounding formats which many of today's devices natively support: o AAC – Minx Air also works with AAC audio files via Bluetooth for the very best quality audio o apt-X – Minx Air's apt-X technology allows CD-quality over Bluetooth from devices featuring apt-X support - Audio quality – Minx Air features a wealth of audiophile technologies including: o High efficiency digital amplifiers for maximum power o Digital Signal Processing (DSP) – Minx Air's 24-bit DSP runs processors featuring MaxxAudio® technology, which dramatically enhances audio performance. MaxxAudio is developed by Waves Audio, recipient of a Technical GRAMMY® award. Waves audio enhancements are used in top recording and mastering studios and are featured on hit records, major motion pictures and video games.

o Patented BMR (Balanced Mode Radiator) speaker drivers for a wider, more room-filling sound than similar-sized traditional speakers - Internet radio – Use the Minx Air iOS and Android apps to find favourite stations, then assign them to 5 preset buttons on the Minx Air unit for instant access without the app. Or use the Minx Air app to discover new stations from around the world – by location, genre or minimum bitrate from a database of 20,000 tried and tested stations - Streaming services – Use your smartphone, tablet or computer to enjoy Spotify, Pandora and other services in hi-fi quality - Wired connections – RCA analogue stereo in means you can also plug your TV, Blu-ray player or other home entertainment devices easily in to Minx Air to experience its superb sound quality – far superior to modern flatscreen TV speakers - Minx Air App – Custom developed apps for iPhone, iPad (iOS) and Android devices offer the ultimate in control. Access 10 radio presets, volume control, bass and EQ settings. The app includes a comprehensive set-up tutorial and links to a series of step-by-step videos. It can also be used to configure first time network connection - Simple set-up for every home – A series of intuitive videos (also available online as well as via the Minx Air app) and a Quick Start Guide, explains how to connect Minx Air to a network in seconds. Alternatively, use the built-in ethernet socket for plug-and-play connection or connect without a home network using Bluetooth - Acoustically damped construction – Minx Air's discreet design conceals a wealth of features designed to maximise its audio potential. Finished in scratch resistant high gloss lacquer, the acoustically damped cabinet is designed to eliminate vibration and distortion – even at high volumes. Cleverly, it incorporates a bass port within the carry handle - Eco-friendly – <0.5W standby power consumption and Auto Power-Down feature.
The Minx Air 100 and 200 are available direct from www.cambridgeaudio.com or from Cambridge Audio specialists for $449.00 and $599.00 respectively.
Cambridge Audio store directory: http://www.cambridgeaudio.com/dealers
For images and tutorial videos, visit www.cambridgeaudio.com/minx-air.
About Cambridge Audio
Cambridge Audio has a rich history of developing innovative products designed to harness every last drop of detail from your favourite music and movies.

Every product bearing our name is created at our London research and development centre by a team of incredibly passionate and committed engineers with a vast array of live music and sound production experience.
Whilst the way we enjoy home entertainment has changed dramatically over the years, neither time nor new technology can ever dampen the emotional power of a perfectly reproduced song or favourite movie soundtrack. Fuelled by your passion for music and movies, Cambridge Audio products are created by people who genuinely want to deliver the most captivating entertainment experience for the very best value possible.
Testament to the trust and self belief we have in ourselves, we actively encourage press reviews of all our products and if you look at any of the leading home entertainment press, you'll see that Cambridge Audio is consistently recognised for its immense performance, innovation and value.