CSR Racing now available on Android, challenges your drag racing skills
5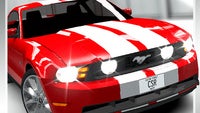 While most racing games are all about being the fastest around the track, the concept of CSR Racing is a bit different. There's no steering involved. You don't have to perform tricky overtaking maneuvers either. Instead, the game tests your drag racing skills, meaning that timely shifting is of utmost importance.
CSR Racing, which is now available on Android after being an iOS exclusive for a long time, stands out with its pretty 3D graphics and detailed car models. In fact, all cars in the game are licensed, so you'll (kinda) get the chance to drive the best vehicles that Audi, BMW, Chevrolet, Nissan, and more manufacturers have to offer. As we stated already, to win each race you'll have to shift at the right moment – that's easier said than done. There are car upgrades and nitro boosts involved as well to give you that extra horsepower needed to beat even the most challenging opponents.
While the game is free to download and play, there are in-app purchases involved. These will let you drive newly purchased vehicles instantly and to hire mechanics to perform vehicle maintenance. Still, the game is worth giving a try, so if CSR Racing sounds like something you'll enjoy playing,
check it out at the Google Play store.