CES 2012: Schedule of events
5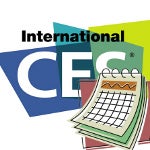 We're all pretty excited here due to the fact that there's less than a week until
CES 2012
- a January expo where we get to see a lot of new phones and tablets that are yet to hit the market later in the year. And what do you know - this year should be crazier than ever, having in mind that most major phone makers have scheduled press conferences to reveal their latest and greatest products.
As you can imagine we'll be at CES 2012 in order to cover everything first-hand for you. Please check out
this post
to see what the best ways of
keeping track of our CES coverage
are.
It seems that after Acer's event on the 8th, almost everything else will happen on January 9 - that's when most manufacturers have scheduled their press conferences for. Samsung, LG, Nokia, Huawei... What? Aren't you excited about what Huawei's going to announce? OK, maybe you're right.
There are also some interesting events on the 10th, so we guess we should see something new there as well, especially having in mind that the Sony event on the 9th is just Sony, and this one on the 10th is Sony Ericsson. Although we aren't really sure what we can expect from these companies right now, so anything can happen.
Here's the
full schedule of CES 2012 events
below for you, tech-savvy guys and gals. And don't forget to populate your calendars with those, just to make sure that you don't miss a thing!