CEO of Samsung Electronics resigns; company forecasts record Q3 operating earnings
20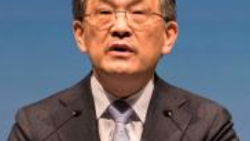 On Friday, Samsung announced that the CEO and Vice Chairman of Samsung Electronics, Kwon Oh-hyun, plans to resign. He is known as "Mr. Chip" for turning Samsung into the world leader in memory chips. The announcement shocked some Samsung followers. According to Park Ju-gun, head of research firm CEO Score, "
The timing is nonsensical. Samsung tipped record earnings, it's going to be better in the fourth-quarter, and all that's been driven by Kwon's components business
."
In addition to announcing Kwon's resignation, Samsung said that it would report record third quarter operating earnings thanks to strong memory chip sales. The strong demand for chips is also expected to lead to a record breaking annual profit. For the second quarter ended in June, semiconductors were responsible for profits of 8 trillion won ($7.20 billion USD).
"We are fortunately making record earnings right now, but this is the fruit of past decisions and investments; we are not able to even get close to finding new growth engines by reading future trends right now."-Kwon Oh-hyun, CEO, Samsung Electronics
Kwon, 64, spent half his life working at Samsung, and isn't leaving his position as chairman of the board and board director until next March. He also isn't immediately leaving his other two positions. He runs Samsung's businesses that focus on components and displays. The company refused to say who might be in line to replace the executive.
source:
Reuters