CDMA version of cloud-centric Nextbit Robin is delayed until April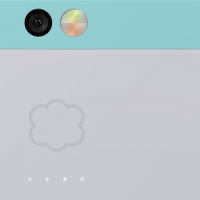 Earlier this month, we told you that
the GSM version of the Nextbit Robin would ship starting on February 16th
. The device comes with 100GB of cloud-based storage. Rarely used apps and pictures not viewed often are backed up and sent automatically to the cloud. Whenever you need one of those apps or pictures back on your phone, it comes down from the cloud with a single tap. And your apps and photos are also backed up automatically when the phone is plugged in and on Wi-Fi.
The CDMA version of the handset, which will be available for Verizon and Sprint users, has been delayed. Today, Nextbit revealed that this version of the phone will probably start shipping in early April. The phone will cost $399, the same price as the GSM model. Accessories include screen protectors, Quick Chargers and protective cases.
The reason for the delay in delivering the CDMA model is simple. Nextbit didn't contemplate producing such a model until it saw the amazing response it had to its Kickstarter campaign. As it turns out, the Robin is perfect for those who like to customize their phone. It ships with an unlocked bootloader and open source drivers allowing users to install CyanogenMod or other ROMs without losing the device's warranty.
The Nextbit Robin will carry a 5.2-inch IPS LCD screen, with a 1080 x 1920 FHD resolution. The Snapdragon 808 SoC is under the hood carrying a hexa-core CPU, and the Adreno 418 GPU. 3GB of RAM is inside along with 32GB of native memory, and the aforementioned 100GB of cloud based storage. The 13MP rear-facing camera comes with PDAF, and there is a 5MP front-facing camera for selfies and video chats. A 2680mAh battery keeps the generators humming, and there is support for Quick Charging. A fingerprint scanner is on board.
"The CDMA Robin wasn't in development until we saw your response on Kickstarter, and we got a little carried away in the excitement of the campaign. When we estimated we would deliver CDMA Robin in February, we were being optimistic. Now that we've gone through development and are working out the testing schedule, we think April is more realistic. We don't know exactly when in April as there are still a number of factors outside our control. We will keep you up to date, as we get more and more information."-Nextbit
The device is offered in two colors, Mint and Midnight. If you're looking for a smartphone that comes from somewhere off the beaten path, the Nextbit Robin just might be for you. Click on the sourcelink if you are interested.
CDMA version of the Nextbit Robin will ship in April
source:
Nextbit
via
AndroidCentral