Budget touch phones coming from Samsung
0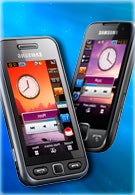 Touchscreen phones are really hot right now, but their presence is still significantly weaker in the budget end of the market. That's why Samsung has decided to fill the gap with its upcoming budget touch phones, the S5600, which we have
already informed you of
, and the S5230.
The
S5600
is designed to suit the needs of the users who seek not only high functionality but also more stylish appearance. It sports 2.8-inch touch-sensitive display with QVGA resolution and the TouchWiz interface with widgets, allowing for fast one-click access to your favorite apps. A key feature of the device would be Gesture Lock . It lets the user to unlock and execute a certain menu by drawing a letter on the screen. In addition, it is up to the users to decide which submenu to correspond to a certain letter (from A to Z). Promoted as a multimedia phone, the S5600 offers also a 3-megapixel camera with up-to-date features like Smile Shot. Video recording will be available with up to QVGA resolution at 15 frames per second. The Samsung S5600 is a quad-band GSM and a dual-band 3G device that should hit the European stores in May, but still not a word on pricing or U.S. availability.
Samsung S5600 Specifications
The second addition to the mid-end touch screen line is the
S5230
. It is a slim and compact device incorporating a large 3.0-inch WQVGA screen, again running the TouchWiz UI plus Mobile Widgets and Photo Contacts, allowing you to call a certain contact only by touching an image. The Gesture Lock feature will be also present here, along with an on-screen QWERTY keyboard for faster messaging. S5230's camera will not offer something different - 3-megapixels with video recording in QVGA resolution at 15 fps. This quad-band GSM will be available across French and other European markets, starting April with no official price confirmed yet.
Samsung S5230 Specifications
source: Samsung