Broken phone signed by Rihanna fetches $66,500 on eBay
60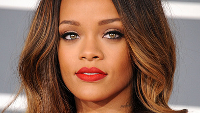 Talk about making lemonade out of lemons. Pop star Rihanna was attending an NBA Playoff game between the Clippers and the Thunder last week in L.A., when the person in the seat next to her asked if she would mind taking a selfie with him. Perhaps Rihanna was nervous about the game, or maybe she had too much popcorn butter residue on her hands. Regardless of the reason, she dropped the phone.
As it turned out, the person sitting next to Rihanna whose phone she broke, was L.A. Police Commission President Steve Soboroff. The law enforcement official decided to make the best out of the situation by having Rihanna sign the back of the phone. And then Soboroff did what any red-blooded person would do. He auctioned the phone on eBay.
The phone, which did work although it was sporting the cracked screen, sold for an incredible $66,500. Soboroff donated the entire amount to the LAPD Cadet program, and Rihanna even added an additional $25,000 of her own money. Overall, it was a great day for the LAPD.
Amazing how some ink can turn a $200 handset into such a valuable property.
source:
SBNation