Brand confusion? Porn company may sue over HTC Vivid
23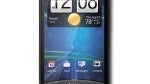 In the most random and silly news of the day, HTC has received a cease and desist letter from adult film maker Vivid Entertainment for trademark infringement with the HTC Vivid. Apparently, Vivid Entertainment is worried about brand confusion and has asked HTC to change the name of the device or else face a lawsuit.
HTC has responded simply by saying, "We are reviewing the complaint and don't expect to have any further comment until it is resolved." However, we would really like to see more of an explanation from Vivid Entertainment, because we cannot understand how anyone could get an Android smartphone confused with a porn company. Perhaps someone may think that the phone has been sponsored by the company, and complain when there are no adult films pre-loaded on the device?
We'll bring you more as it happens, because this story is shaping up to be hilarious.
source:
TMZ
via
The Verge