Bootleg ebook apps removed from Android Market, Joanne Rowling sighs with relief
1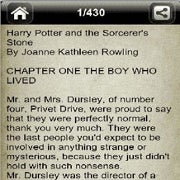 Android Market started to fill recently to the gills with apps, which offer free access to pirated ebooks, including the whole "Harry Potter" series, for example.
Now apparently Google has decided to take action, as some of them started disappearing from Android Market. The apps popped up earlier in the month, by an uploader called UKER. The books were obvious scans, as some were of poor quality, and the Harry Potter concoction was offered as a single download. Others included trendy titles like "The Girl With The Dragon Tattoo", Stephen King classics, and so on.
With apps surpassing half a million each on Android Market and Apple's App Store, it is apparently becoming increasingly difficult to follow and curate everything. Apple, for instance, was sued last week by a group of Chinese authors, whose works were published in the form of iOS apps without their knowledge and permission.
via
Electricpig