Blurex ultra-slim case for Nexus 7 - a worthy consideration versus Google's cover?
4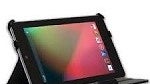 So maybe you have a sleek Nexus 7 in your hands and are eager to get it in some practical protection. The official Nexus 7 Cover is an option, except it is not available yet, and is expected to cost $20.
Blurex might just have what you are looking for, and it is $5 cheaper. The Ultra-Slim Case for Google Nexus 7 has some pretty distinctive features that might be worth your consideration. The most notable feature is that it is equipped with sleep magnets. Close the case, the Nexus 7 goes to sleep. Open it up, it wakes up.
The rest of the case has other useful features, such as a strap to slide your hand in when the case is open and you are using the tablet. The case also allows you to use it as a stand, with three different viewing angles, though to use this feature you have to disconnect two of the clamps holding the tablet in place. There is also a handy strap to help keep the Nexus 7 from sliding around when the case is fully opened.
The case is available now on Amazon and appears to be priced right. Let us know if you get one for your Nexus 7.
Recommended Stories