Blu intros 7 new Android smartphones, including one with a huge 5000 mAh battery
34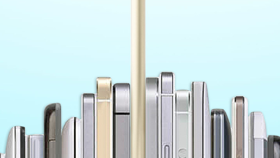 Blu Products, which presents itself as "the market leader in unlocked devices in the United States", today announced no less than 7 new Android smartphones, with a few interesting models among them.
First of all, we've got the Blu Vivo Air, which, at only 5.1 mm, will be the thinnest smartphone in North America when it launches in mid-January. The handset runs Android 4.4 KitKat, sports a 4.8-inch Super AMOLED display with 720 x 1280 pixels, and is powered by a 1.7 GHz octa-core MediaTek MT6592 processor. Other features include 1 GB of RAM, 16 GB of internal memory, 8 MP rear camera, 5 MP front-facing camera, and a 2100 mAh battery. The Blu Vivo Air seems to be based on the
Gionee Elife S5.1
(it wouldn't be the first time when
Blu rebrands a Gionee handset
). The smartphone will be sold unlocked, for $199.
Next up, we have the Blu Studio Energy, a 5-inch (720p) handset which comes with a massive 5000 mAh battery. Blu says that this battery can provide "up to 4 days" of standard usage, 52 hours of talk time, or up to 45 days of stand-by time, while also being capable of charging other devices. Running Android 4.4 KitKat and measuring 144.5 x 71.45 x 10.4 mm, the Studio Energy further features a 1.3 GHz quad-core MediaTek MT6582 processor, 8 MP rear camera, 1 GB of RAM, and 8 GB of expandable internal memory. The handset costs $179, and will be released in late January.
Also powered by quad-core 1.3 GHz MediaTek MT6582 processors are the Blu Studio X ($129), Studio X Plus ($149), and Studio G ($89). The Studio X and Studio X Plus feature 720p displays (5 inches and 5.5-inches, respectively), plus 8 MP rear cameras, 1 GB of RAM, and 8 GB of expandable storage space. The Studio G is a modest device, offering a 5-inch display with 480 x 854 pixels, 512 MB of RAM, and 4 GB of expandable internal memory.
Finally, for those who just don't want MediaTek processors, Blu also has a couple of Snapdragon-based handsets: the Blue Life One and Blue Life One XL. Both feature 64-bit, quad-core 1.2 GHz Snapdragon 410 chipsets, LTE, 13 MP rear cameras, 5 MP front-facing cameras, 1 GB of RAM, and 8 GB of expandable internal memory. The Life One sports a 5-inch 720p display, while the Life One XL offers a 5.5-inch 720p screen. The two smartphones will go on sale in March for $179 and $199, respectively.
Blu says that the Studio X, Studio XL, Studio G, Life One, and Life One XL will be updated to Android 5.0 Lollipop. It's not clear if the Vivo Air and Studio Energy will also get the new version of the OS. In any case, all seven Blu smartphones will be available in the US via Amazon and other retailers. Interested?
source:
Blu / PR NewsWire
Recommended Stories