Bloomberg app now available for all Windows Phone models
0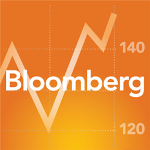 12 year high
on Tuesday, the decision to allow all Windows Phone handsets to download the official Bloomberg app is a timely one. Previously, the app was a Nokia exclusive. The Bloomberg app brings all of the market news and analysis that you would expect from Bloomberg, along with stock quotes and links to both Bloomberg Radio and Bloomberg Television. Technical analysts can use the charting capabilities to check which stocks are trending higher. And you can even add your own stocks to a scrolling ticker.
The Bloomberg app for Windows Phone includes integration with Twitter, email and Facebook and supports multiple sizes of Live Tiles. Whether you are a hyperactive daytrader scalping pennies, or a longer term position trader, you will find at least one feature of this app to be useful. And even if you're not a trader, Bloomberg has one of the best news agencies in the world. It is a free download for both Windows Phone 7 and Windows Phone 8 users.
For those sporting an iOS or Android device, don't be jealous. The Bloomberg app has been available for years as a free download for both platforms.
source:
WindowsPhoneStore
via
WPCentral