BlackBerry's new Passport Silver Edition spotted running Android
35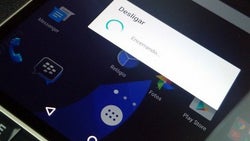 The idea of BlackBerry dropping a smartphone that runs Android is one that piques the interest of many, and in the run-up to the all new
BlackBerry Passport Silver Edition
, it was believed that the Canadian firm
might finally take the bait
. It wasn't to be on this occasion, with the refined, shiny new handset packing the more predictable BB10 software, but a new clip has offered a tantalising peek at what might have been.
BlackBerry's first Android smartphone could make its way to the market before the end of this year, if reports on the matter are to be considered reliable. But to many, the Passport would be a viable option if it had the more universal Android software as opposed to BlackBerry 10, and while it's possible to install some Android apps on BB10, the user experience is very different to what you'd get with a typical 'Droid.
YouTube user has a clip of the Passport Silver Edition apparently running on Android, although the video itself is curiously blurry. Not to be too cynical here, but anyone who was trying to cook up a fake video may lean towards a choppy, low-res demo in order to obscure the fact that it wasn't the real deal. At 144p, we can't help but feel that this isn't what it touts to be, particularly since the accompanying stills are crystal clear.
It could be just a launcher, or even something a little more hacky, but we're inclined to think that this Passport Silver Edition is running Android as much as the notebook in the background is a genuine Apple MacBook.
But hey, we'll let you be the judge:
Even though it's unlikely that any of this is real, here are those snaps, for those curious about the idea of a BB running Android: