BlackBerry Passport Silver Edition hits Amazon for $549
9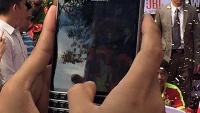 BlackBerry continues to defiantly churn out smartphones despite dwindling sales.
The new Silver Edition
of the
Passport
has coincided with the launches of competitors -- using the term
somewhat
loosely -- like the
Moto X Style
and
OnePlus 2
over the past week or so. Having gone on sale through BlackBerry earlier this week with a bunch of added accessories, Amazon also now has the device up for sale at the same $549 price point. But if you do opt to purchase through the online retail giant, be mindful of the fact that you don't get the bundled goodies valued upwards of $130.
With a curved, generally more premium finish, the Passport Silver Edition does have an element of charm about it. Where the company, pre Apple's iPhone, once dominated the consumer market, BB's target audience nowadays seems confined to business, enterprise, and die-hard devotees among a swarm of mainly Android and iOS users. But with a bunch of technical improvements to match the refined aesthetic, the Passport Silver Edition is a welcome iteration, and if you'd like to see more, check our
hands-on
.
The fact that Amazon has the device in stock means you can take advantage of the flexible shipping arrangements, including Prime. But while stocks last, BlackBerry is offering an abundance of extras for the very same price, so if you are considering the new Passport, you might want to read
this
.
Additionally, those pondering the device should consider that it's only supportive of GSM networks, so won't cover CDMA networks like Sprint or Verizon.