CEO John Chen sees himself as the doctor who can cure BlackBerry's ailments
14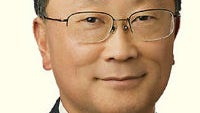 There are many in the technology sphere who believe that BlackBerry is a terminal patient (or part of the walking dead) at this point; but, new CEO John Chen is (luckily) not one of those people. Perhaps he is just doing his standard CEO duty and trying to make the situation seem less dire than it is, but Chen believes that he is the doctor who can cure BlackBerry's ailments.
In an interview with the newly launched Walt Mossberg/Kara Swisher site
Re/code
, Chen readily admits that he has taken an incredibly difficult job upon himself. He even openly claims that he is "abnormal" for wanting to be the CEO of BlackBerry rather than going after a "safer, easier job". Chen believes that BlackBerry has a path to success, and he believes it to be the same path that brought the company success the first time around: the enterprise market.
Unlike recently ousted CEO Thorsten Heins, who seemed to believe that BlackBerry could make a splash in the consumer market with BlackBerry 10, and some
celebrity hires
, Chen believes that the best way to succeed is to bring BlackBerry back to its roots. It's not a terrible idea, because the enterprise market is still sorting itself out in the wake of BlackBerry's freefall.
The key to BlackBerry's revitalization may not actually be in smartphones either. Chen has high hopes for the BlackBerry Enterprise Service 10, which is the server software BlackBerry has created for businesses to be able to manage the devices on its network, including Android and iOS devices as well as old and new BlackBerry handsets.
Possibly the most telling quote of the whole interview was Chen extending his doctor metaphor by saying, "If you are an emergency room doctor, you should not be afraid of the blood." That alone tells how dire the situation is for BlackBerry.
Recommended Stories