John Chen says that consumers are still a focus at BlackBerry
30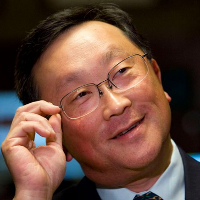 If you're a die hard BlackBerry fan, the kind that can't imagine using any other keyboard than the one on the BlackBerry Q10, you might have been concerned by the appointment of John Chen to replace Thorsten Heins as CEO of the Canadian manufacturer. With the reputation as someone who has turned around a troubled company (Sybase) and dressed it up to be sold to a much larger one (SAP), the fear was that Chen would concentrate on areas like the enterprise, BES and let the consumer handset business die in its sleep.
But Chen recently confirmed that the consumer smartphone business is still a top priority at Waterloo, despite the challenges of taking on a rather entrenched duopoly in iOS and Android. With the enterprise business, BlackBerry has BES although the CEO recently said that
the company has lost users since BlackBerry 7 was retired
.
Hand in hand with the enterprise business is BlackBerry's reputation for security. Chen says that no platform is as secure as the BlackBerry OS. And while this once might have been more important to the businesses and government agencies who are transmitting confidential information on a smartphone and storing it on the device, the NSA 'scandal' has brought the issue of security to the general public. That could benefit BlackBerry's consumer sales.
"People who love their BlackBerry have always appreciated that their device allows them to get things done. And central to our productivity focus is our keyboard. BlackBerry has invested years of research and development to create the world's best mobile keyboard, and that will continue to be a central focus for us...One critical challenge we have been addressing is the company's broad approach on both enterprise and consumer markets...doesn't mean we are turning our back on the consumer--far from it--but it's important we narrow our focus on our core strengths. I believe in the values of this brand and I've assembled the right team and strategy with the strong confidence that we will rebuild BlackBerry for the benefit of all of our constituencies."
-John Chen, CEO, BlackBerry
With some research firms reporting that
BlackBerry had 0% of the U.S. smartphone market in the fourth quarter
, keeping the faith is going to be hard for those die-hard fans that the company still has left. Chen earlier said that the company is working on some high-end models for the U.S.market that are not covered by its 5-year pact with Foxconn. This is where BlackBerry has fallen flat on its face before. If it can come up with a device that can challenge the competition specs wise, perhaps BlackBerry's strengths in the physical keyboard and security areas can help it bounce off the bottom of the consumer smartphone market. This seems to be what John Chen is counting on.
source:
FastCompany
via
BerryReview