BlackBerry Mobile Fusion intro video released
1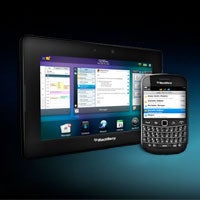 BlackBerry Mobile Fusion is RIM's latest release for BlackBerry Enterprise Server that allows the management of both PlayBooks and smartphones in one place. BlackBerry Mobile Fusion is accessible from a single, web-based interface and can provide management of mobile devices, users, configurations, policies, and more.
Sometime in 2012, RIM will also be adding Universal Device Service to BlackBerry Mobile Fusion that will allow management of iOS and Android devices from the same tool. Considering the amount of both personal and corporate owned mobile devices companies see hit their networks these days, BlackBerry Mobile Fusion could turn out to be a very powerful tool for system administrators in enterprise environments.
RIM's intro video gives us some
insight
into how it plans on position these services. By incorporating the Android and iOS elements, RIM is really attempting to be a complete end-to-end solution provider that can provide simple, secure device management.
source:
BlackBerry
via
BerryReview