BlackBerry DTEK60 up for pre-order for $699.99 CAD, unofficially
99+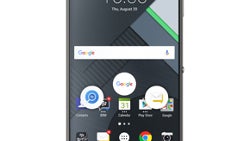 BlackBerry has yet to officially introduce the
DTEK60
, its next high-end Android smartphone, but at least one retailer is now taking pre-orders for the device. Since the Canadian company didn't announced the smartphone we don't know the suggested retail price, but this authorized reseller offers the DTEK60 for a decent price.
If you're familiar with NCIX, you'll be pleased to know that the retailer is now taking pre-orders for the BlackBerry DTEK60. If you want one, then you will have to come up with $699.99 CAD ($535) upfront, but keep in mind that the product can't be exchanged and no returns or refunds are accepted.
The phone is unlocked so you will be able to use it with more GSM network operators. It's also worth mentioning that NCIX claims the BlackBerry DTEK60 will arrive around October 11 and that the price is subject to change. The good news is you won't be charge for the phone until the ETA (estimated time of arrival) is confirmed by the manufacturer.
A couple of the phone's specs
are listed by the retailer too, but they haven't been confirmed by BlackBery. For example, the DTEK60 is expected to boast a large 5.5-inch AMOLED display that supports Quad HD (1440 x 2560 pixels) resolution.
The back side includes an impressive 21-megapixel camera, which is said to offer many advanced features such as phase detection autofocus, dual-LED flash and HDR, while in the front there should be a secondary 8-megapixel camera for selfies.
There's no mention of the chipset inside, but
rumors claim
BlackBerry will pack a powerful quad-core Qualcomm Snapdragon Snapdragon 820 processor, coupled with 4GB of RAM and 32GB of storage (expandable up to 256GB).
Last but not least, the DTEK is said to drain energy from a non-removable 3,000 mAh battery and it should offer a wide range of connectivity features like 4G LTE, Bluetooth 4.2, USB Type C port and GPS with GLONASS.
BlackBerry is likely to unveil the DTEK60 in the first week of October, but an exact date for the announcement hasn't been confirmed yet, so stay tuned.
Recommended Stories