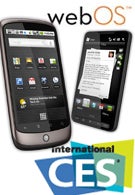 CES 2010
.
First before most, we have to give it up for the
HTC Nexus One
. Of course, the Google Phone was a center of attention, with literally everyone trying to get some hands-on time with the Android smartphone, and that includes us. Stay tuned for our detailed review of the HTC Nexus One – it will be published soon!
HTC HD2
, got announced at CES. The Windows Mobile smartphone remains unchanged from its European variant, sporting a 4.3-inch capacitive touchscreen and 1GHz Snapdragon chipset. You can check our
review of the HTC HD2
(EU) or take a look at our HD2 vs. iPhone 3GS comparison
here
. The phone should be available this spring.
Motorola BACKFLIP
. The BACKFLIP may have a form-factor that's a bit strange, but it will still get an update to version
2.1
of the operating system. It also features the MOTOBLUR interface that's designed with the social networking user in mind. The Motorola BACKFLIP is scheduled for a Q1 launch.
Palm made its fans happy with the announcement that
webOS 1.4
is going to bring video recording and editing tools. Support for Flash 10.1 is also coming in the following months and the first 3D games for webOS are already available in the App Catalog. What came as a really nice surprise for Verizon users though was the official announcement of the
Palm Pre Plus
and
Pixi Plus
. The Pre Plus has twice the internal storage space and the Pixi Plus has Wi-Fi! Both will be available on Big Red starting January 25.
Sprint announced the successor to the Lotus, the
LG Lotus Elite
, as well as the new
LG Rumor Touch
. Both make an emphasis on the fashion appeal, with the Lotus Elite sporting the specific form of its predecessor and adding an external touchscreen, and the LG Rumor Touch looking quite nice with its 3.0-inch resistive touchscreen.
So that's what managed to impress us at
CES 2010
.And what do you think of the event? Did the geek in you feel satisfied,or were rather left disappointed because what you wanted to see wasn'tthere? Feel free to share your thoughts in the comments below or in ourForum thread.