Get the T-Mobile Galaxy S10+ for the price of OnePlus 7 Pro at Costco
2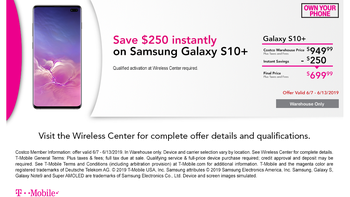 The
Galaxy S10+
costs $999.99 over at T-Mobile, but if you run to your nearest Costco warehouse, you can get it for just $949.99 outright. With instant $250 credit, running until 6/13, the price falls down to the unbelievable $699, only for today and tomorrow.
That's
OnePlus 7 Pro
level pricing, and no bill credit strings attached. Needless to say, you have to hold a Costco membership and get a T-Mobile line of service, but if you have already been eyeing a new phone on the carrier, this might be your best bet so far.
For comparison, the unlocked or carrier-attached S10+ currently runs $899 thanks to a
$100 promo
over on the Samsung US store, and that's the lowest you can find it with an instant discount from a reputable source.
As a reminder, Costco still has the
$250 off promo
for the smaller
Galaxy S10
which can be had for $599 with a T-Mobile line until 6/16, too, and these are tied with the lowest prices we've seen for Samsung's spring flagships.