Best Buy cancels PlayBook orders
20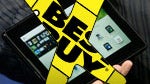 After the
announcement that the BlackBerry PlayBook would be available at select retailers, including Best Buy, for the low price of $199
, apparently a large amount of people attempted to jump on the opportunity of $300 in saving.
Reports are pouring in that people are having their PlayBook orders cancelled. Some have received out of stock or processing errors, but overall have not been given an explanation as to why their order will not be fulfilled. A member over at BlackBerryOS posted in the forums stating they called Best Buy and a representative said
corporate has cancelled all BlackBerry PlayBook order
, but, once again, did not offer any additional insight as to why.
As of the writing of this article, the listing for the BlackBerry PlayBook itself is no longer on Best Buy's website. A search for "PlayBook" yields only accessories for the tablet.
There is no official word from Best Buy, as of yet, so we will have to wait and see what the actual cause of the mass order cancellation was. If you ordered a discounted PlayBook from Best Buy, please share your experience in the comments below.
source:
BlackBerryOS
&
Electronista
Recommended Stories