Benchmark test reveals Lenovo's upcoming Tab3 8 Plus will use a Snapdragon 625 CPU
1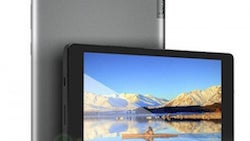 Back in September of last year, the Lenovo Tab3 8 Plus was first leaked online. The 8 Plus got leaked as the supposed successor to Lenovo's Tab3 8, which is an Android-powered tablet that's currently selling for a little more than $100. The Tab3 8 is very much so a budget-oriented device, and the first leak of the 8 Plus showcased a slightly improved version of the Tab3. That leak revealed various specs about the upcoming tablet, and thanks to a new sighting of the Tab3 8 Plus on the Geekbench benchmarking app, those specs have all be confirmed and solidified a bit more.
The new Geekbench results showcase that the Lenovo Tab3 8 Plus (currently using the model number of TB-8703F) is being powered by the Snapdragon 625 processor and 3GB of RAM for light-to-moderate multitasking. The benchmark test shows the Tab3 8 Plus with a single-core score of 935 and a multi-core score of 4667, meaning that it should be plenty powerful for all of your content consumption needs.
Along with these processing internals, the Geekbench result also reiterates the fact that the Tab3 8 Plus will be running Android 6.0.1 out of the box. Along with this, the previous first sighting of the Tab3 8 Plus also revealed that the upcoming gadget will feature a 1920 x 1080 Full HD display, 32 or 64GB of internal storage, rear-facing 8MP camera, and a front-facing 5MP variant. There's currently no pricing or availability details on the Lenovo Tab3 8 Plus, but our guess is that it'll be sold for slightly more than the current Tab3 8.
Recommended Stories