Belkin unleashes a sweet HD Bluetooth Music Receiver
1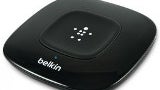 Here's a pretty nice device that can let you play music through your home stereo system using your smartphone - the Belkin HD Bluetooth Music Receiver! You simply connect the device to your music system, and then start streaming the tracks you like from your smartphone or tablet. The Belkin Music Receiver has an appealing design that won't let the device ruin the look of your room.
For the techies out there, the HD Bluetooth Music Receiver features an NFC chip, making it quite easy to pair it with your mobile device, as long as it has NFC as well, that is. If it does, you just need to tap both devices together and everything should be set. The Receiver can remember settings for up to 8 different users, and can be connected to a stereo via a digital optical, digital coaxial, as well as a standard 3.5mm to RCA.
The device is available online
here
and at some Verizon Wireless stores for $59.99.
via:
SlashGear