Barnes & Noble unveils the Samsung Galaxy Tab E Nook edition
7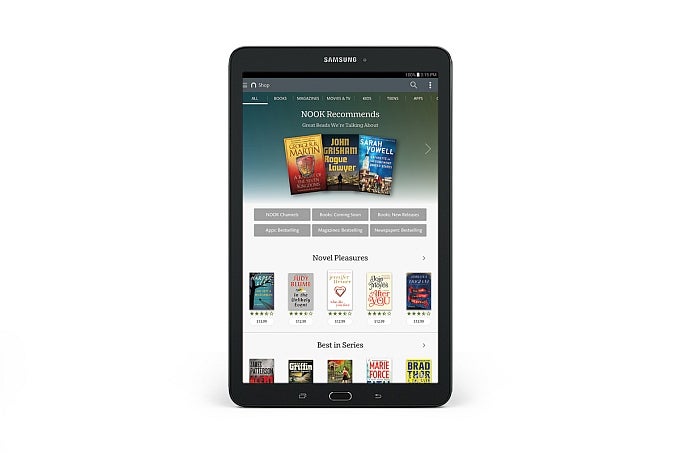 Barnes & Noble, the largest retail bookseller in the United States, has just announced a new Nook tablet. Just like the previous slabs in the Barnes & Noble Nook series, the new tablet is nothing more than a rebranded Samsung tablet with slightly altered software, this time around the
Samsung Galaxy Tab E
.
Barnes & Noble has pre-installed its own Nook store on the tablet, a content gallery that currently holds about 4 million e-books and subscriptions to 100 bestselling magazines from the US. The Galaxy Tab E Nook also comes with a little software trick called Nook Profiles, which help customize the experience for multiple users. With the Nook tablets being aimed at family use, it makes perfect sense to be able to have a profile ready for your kids. Since we're on the topic, Barnes & Noble says that the Nook store abounds with kid-friendly content, offering more than 110,000 titles for children, including some 1,000 interactive picture books.
On the hardware side, the specs of the Samsung Galaxy Tab E Nook are identical to the regular version of the tablet. This includes a 9.6-inch LCD TFT display with a resolution of 800 by 1280 pixels, a 1.3GHz quad-core CPU paired with 1.5GB of RAM, 16GB of microSD-expandable storage, a 5MP primary camera, and a 2MP front-facing shooter. All of these specs are powered by a 5,000mAh battery.
Barnes & Noble has priced the Galaxy Tab E Nook at $249.00, but you can in on some discounts. Buy the tablet by the end of the year, and the company will offer $5 worth of credit in the Nook store. Trade-in an older Nook devices, and the price goes down by $50. You can also trade in other tablets, such as iPads, Kindles, or Samsung tablets, and Barnes & Noble will discount the Galaxy Tab E Nook by $25 to $200, depending on the exact model. Note that the trade-in promotion is valid through November 7th.
What do you guys think of the Barnes & Noble Galaxy Tab E Nook?