BBM Protected offers secure IM chats for iOS, BlackBerry and Android users in the enterprise
59
With
"man-in-the-middle" hacker attacks in the news recently
, BlackBerry is now offering
BBM Protected
to iOS and Android users as a way for them to exchange secure messages. To prevent a vulnerability similar to the "Freak," the encryption keys used by this service are generated by the communicating mobile devices themselves. This is all offered within the BBM Protected package that is essentially an IM service that offers enterprise grade security, yet contains all of the features found with a consumer based IM app.
BBM Protected had been available for BlackBerry handsets only until now. The service will allow BBM Protected customers to have secure chats with non-BlackBerry Protected workers at other companies, or with customers. If you are a BBM Protected subscriber and want to IM someone without the service, all the latter has to do is download and install the free version of BBM for his BlackBerry, iOS, or Android phone.
BBM Protected is available for BES users and while it does require a subscription, BlackBerry is offering a 30-day free trial. If you are concerned about third parties getting in the middle of your intra-corporate or inter-corporate chats, or want secure communications with customers, BBM Protected sounds like the answer.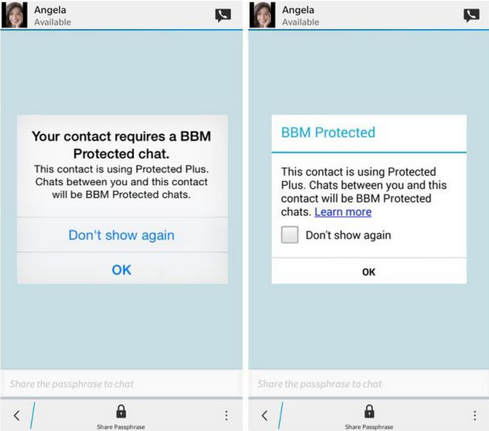 Image on left shows the screen seen by a BBM Protected subscriber while the screen at right is what the non-subscriber sees
source:
BlackBerry
via
AndroidCentral
Recommended Stories