BBM DiscoverTV service goes live in 28 markets, including the UK and US
1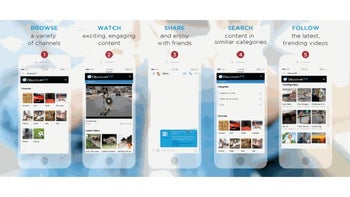 BlackBerry has just announced that its DiscoverTV service for
BBM
is now available in 28 more countries. Originally introduced in South Africa back in 2017, DiscoverTV allows users to watch 15 channels dedicated to games, food, animals, kids, sports, music and travel.
According to BlackBerry, the service was so successful in South Africa that the company has decided to roll out DiscoverTV to an additional 28 markets globally: Bahrain, Canada, China, Colombia, Egypt, Germany, Hong Kong, India, Ireland, Israel, Japan, Jordan, Kuwait, Malaysia, Mexico, Netherlands, Oman, Philippines, Qatar, Saudi Arabia, Spain, Sudan, Taiwan, United Arab Emirates, United Kingdom, United States, Venezuela, and Vietnam.
Once DiscoverTV goes live, you'll find it in the BBM Discover menu. It's worth noting that
BBM users
will be able to stream the service anywhere over Wi-Fi or mobile network. Also, DiscoverTV offers BBM users unlimited viewing hours of free video content from all the 15 channels available.
Here are all the 15 channels that anyone using BBM in any of the 28 countries mentioned above can access once DiscoverTV goes live: KidsTV, GamesTV, AnimalTV, PlanetTV, SportsTV, SoccerTV, WorldCupTV, CricketTV, ExtremeTV, TravelTV, MusicTV, 2nachekiTV, WatchMojoTV, and FoodTV.