Asus Transformer Pad Infinity gets pricing and release for Italy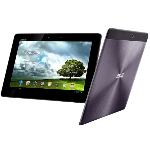 We've been patiently waiting for a release date to be announced for the upcoming Asus Transformer Pad Infinity, and we've finally gotten one... for Italy. Still, the info may give an idea to when the tablet will be making its way across the pond to the US. We've heard that the Transformer Pad Infinity will be coming in 32 and 64 GB variants, but so far only the 64 GB model has gotten info for Italy.
Notebook Italia
has reported that the 64 GB model of the Infinity will be shipping on June 10th, and will cost €599 (~$782). The rumored pricing for the US has been put at $599 for the 32 GB model and $699 for the 64 GB, so a pricing of €599 seems on target as electronics tend to be more expensive in Europe. Unfortunately, the info from
Notebook Italia
is labeled for the WiFi-only model, so there's no word yet on when the LTE model will be made available.
We're hoping this means more info is coming, but we'll have to wait and see.