Asus E600 with Windows Phone 7 boasts new photos and AT&T bands at the FCC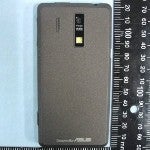 We didn't think that Asus is going to let
this one
go unreleased, and indeed a couple of new photos and a user manual were added to the FCC submission for the Asus E600 over the weekend. That's the development phone that starred in
many Windows Phone 7 leaks
while Microsoft's new mobile OS was cooking.
The Asus E600 is a slick looking device, so the company has evidently decided to go ahead with it, prepping it for commercial launch. It will most probably appear on the "premier carrier" for Windows Phone 7 devices AT&T, since
we saw it
with the 850/1900 MHz bands a while ago at the FCC, when it was still Garmin-Asus E600.
Our rough calculations, based on the FCC ruler markings, peg the screen around 4" in diagonal. The phone also features a 5MP camera with LED flash on the back, and a 1300mAh battery. The chassis seems to include brushed metal parts, and the handset is fairly thin, but not
Samsung Focus
thin. There are a volume rocker and camera key on the right-hand side, a microUSB port on the left, and a lock/power key plus a 3.5mm audio jack at the top.
When the Taiwanese
announced they will exit
the Garmin-Asus joint venture earlier this year, they calrified that the company will be
working both on Android and Windows Phone 7
devices. The funny part in the new photos in the FCC filing, that were submitted on Saturday, is that the charger and headphones still carry the Garmin-Asus branding. We were scouring the quick user manual for any indication if Asus has included its own apps for DLNA streaming, or something similar that will further distinguish the phone, but we didn't see anything out of the ordinary for a Windows Phone 7 handset.
Below is a video of the Asus E600 in action, back in the days when it was used by Microsoft's developers for testing WP7.
source:
FCC