Garmin-Asus is tinkering on releasing another handset for AT&T?
This article contains unofficial information.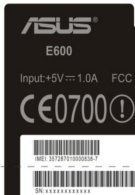 There seems to be something brewing over at Garmin-Asus as a recent new FCC filing has brought on the spotlight that a potentially new handset may be bound for AT&T. Even though some people are just getting situated with
T-Mobile's just released Garminfone
that brings the long time GPS maker into the game with Android, AT&T customers have been putting up with the Nuvifone G60 for quite some time. The experience wasn't flattering at all for those AT&T customers who were quick to grab the Nuvifone G60 when it first came out – not to mention spending a fortune on it as well. However, there just might be a rainbow lurking behind some clouds as the Garmin-Asus E600 "PDA Phone" was seen over at the FCC sporting support for 850/1900MHz 3G which happens to be compatible with AT&T. Either that or it could make its way towards one of the many Canadian wireless carriers that are known to run the same 3G standards as AT&T. If it indeed does come to the number two wireless carrier, it may be able to restore some faith to those customers who still are recovering from the pain inflicted by the Nuvifone G60.
source:
FCC
via
Engadget