Got Sprint's unlimited freedom or 50% off promos? A bill shock is coming your way
2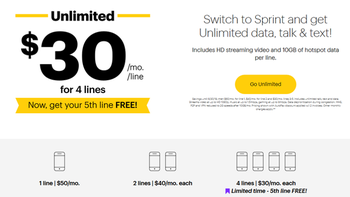 If you have signed up for one of Sprint's "Unlimited Freedom" or "50% off" promos, be warned that analysts expect Sprint to begin calling about 300,000 subscribers before the early adopters deals' end this January, and keep on notifying those whose plan prices are about to get an increase, depending on when they signed up for the goods.
The older, "50% off" deal, was introduced in November 2015, undercutting Verizon, AT&T and T-Mobile plans at half off. The offer was valid until January 8, 2018, so next billing cycle could be a pain. "Unlimited freedom," on the other hand, gives five lines of unlimited data at $20 apiece, but has an expiry date of January 31st, after which you'd be paying extra $30 per month.
Customers on Unlimited Freedom and 50% off were informed when they signed up with Sprint that the plans were introductory pricing and would increase in price at a future date
Analysts are even baking in a higher churn rate for Sprint in this quarter, due to the possibility of customers getting surprised by the price increases, and flocking to other carriers. Sprint is known to extend its promos in the last minute, but this might not be the case this time, as per its spokesperson quote above, so we'll see how many of its subscribers will be affected by the expiration of "Unlimited Freedom" and "50% off" this month.