As expected, iOS 9 brings a new font and a big change to the keyboard
25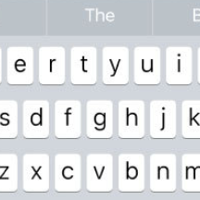 With the introduction of iOS 9 at WWDC today
, Apple made official a couple of changes to its mobile OS that affect the way that it looks. First of all,
iOS 9 replaces the Helvetica font with the San Francisco font used on the Apple Watch
. The latter is said to offer improved readability. The Helvetica font was introduced with the major design changes made to iOS 7.
Additionally, iOS 9 finally ends an annoying feature that made typing on the iPhone and iPad a little more difficult than it had to be. Since the beginning, the iOS keyboard always showed the upper-case form of each letter even if the phone was shifted to lower-case. Other platforms, including Android, dynamically change the look of each letter on the keyboard depending on the position of the shift key. With iOS 9, the iPhone and iPad's virtual QWERTY will do the same thing.
Developers get first crack at iOS 9 starting today. Apple will open its public beta program for iOS 9 next month.
source:
AppleInsider