Archos 53 Platinum Hands-on
4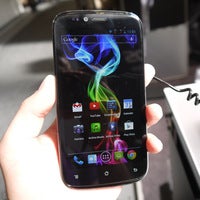 "Platinum" is a word that one would instinctively associate with a classy, premium product. However, there's pretty much nothing fancy about the Archos 53 Platinum – an inexpensive Android handset, which aims to attract buyers with its large display. It is a smartphone made of the most basic glossy plastic you can imagine. Not only that it feels cheap, but it also acts as an ideal magnet for fingerprints. At least it fits nice in the palm despite the size and its buttons are easy to reach.
The
5.3
-inch screen on the Archos 53 Platinum is unimpressive, to say the least. Sure, it is big with its 5.3-inch diagonal size, but its resolution of 540 by 960 pixels is underwhelming considering its proportions. Colors look okay, but we're pretty sure we've seen prettier IPS screens than this.
With a mostly stock build of Android 4.1.2 Jelly Bean on board, the Archos 53 Platinum is actually quite responsive. Its 1.2GHz quad-core processor backed by 1GB of RAM runs things well, without being laggy or dropping frames, which is great news. In case you're wondering, Qualcomm's MSM8225Q SoC is in use, so do not expect performance comparable to that of the latest Snapdragons.
There's a couple of cameras on the Archos 53 Platinum – an 8MP main one with auto-focus and LED flash and a 2MP front-facing cam for video chats. We aren't expecting them to be spectacular, but they should get the job done. The 4GB of on-board storage won't get you far, so make sure you have a microSD card ready for use with this one.
Connectivity-wise, the Archos 53 Platinum has the advantage of offering dual SIM card functionality, so it can be used with two carriers simultaneously. Only one of the slots, however, is 3G enabled, while the other is stuck at 2G speeds. You also get Wi-Fi, Bluetooth, GPS, FM radio, and HSPA+ at 7.2Mbps.
All in all, we can't really see the Archos 53 Platinum flying off the shelves as it has little to attract one's attention with. But since it is priced at €250 off-contract, it could, be a decent alternative to the Samsung Galaxy Mega 5.8 and other large-screened Androids retailing at a higher price.