Apple's stock rebounds 1.4% on Thursday after 4.5% drop Wednesday
1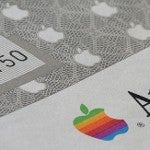 Alex Guana, an analyst with JMP Securities, downgraded Apple on Wednesday to "Market Perform" from "Market Outperform". The ratings cut shaved 15 points off of Apple's stock price on a day when the Dow Industrials and NASDAQ were getting hit hard. The analyst said his rating drop reflected the "risk associated with the notable deceleration in its primary manufacturing partner Hon Hai – Foxconn – that was emerging even prior to the amplified uncertainty created by developments in Japan." Bargain hunters came in buying on Thursday as the stock rallied 1.4% on the day.
Sales growth at Hon Hai has dropped from 84% in December to 26% in the February quarter. These numbers are well below the 70% sales growth estimated for the March quarter and a better than 50% figure expected for the June period. Lower sales numbers for the Japanese company could reflect lower manufacturing work being done on behalf of Apple, which would point to slower sales for the U.S. tech giant.
The analyst cut his revenue projection for Apple's second quarter ending this month, to $22 billion from $23 billion with earnings per share sliced to $5.10 from $5.49. His 2012 forecast for EPS dropped to $27 from $27.50. Wall Street is looking for Apple to bring in revenue of $23.1 for Q2 with earnings of $5.27. The Street's earnings per share consensus for the year is $27.63.
Apple's 52 week high and low is 364.90 and 199.25 respectively.
source:
Forbes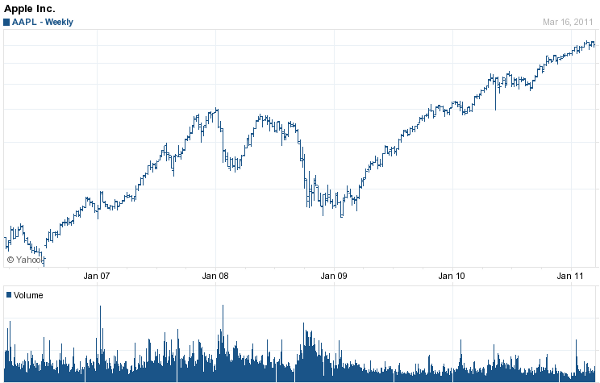 The last 5 years of Apple's stock movement on a weekly basis, courtesy of Yahoo