Apple's proxy statement reveals Tim Cook's pay and Carl Icahn's proposal
20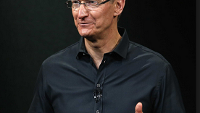 Apple filed its annual proxy statement with the SEC on Friday. Among the information revealed by the filing, Apple paid its CEO Tim Cook $4.25 million in salary and bonus for the fiscal year that ended September 28th. Cook did not receive any stock as compensation for the last two fiscal years. In August 2011,
he was awarded 1 million restricted shares of Apple, then valued at $375 million
, when he took over the CEO post from the late Steve Jobs. Those restricted shares now have a value of $563 million.
At the urging of the executive, Apple changed the vesting rules for the shares. Instead of them vesting based on longevity, for Cook to receive the entire award, Apple's shares must outperform two-thirds of the shares in the S&P 500 each year.
According to the proxy, at the annual stockholders' meeting on February 28th, investor Carl Icahn will submit a proposal that would ask the company to buy back $50 billion of its own shares by September 27, 2014.
Icahn owns 3.9 million shares of Apple at last count
, valued at $2.2 billion. Apple is recommending that shareholders turn down the proposal. While Apple says that it still is committed to returning cash to shareholders, it says that it needs to be flexible with access to its resources, according to a statement.
Another proposal would prevent Apple from issuing preferred stock without a shareholder vote. This would prevent the company from offering high-dividend preferred stock at the discretion of executives, without an approval from a majority of common stockholders. Apple says it wants to eliminate this "blank-check" authority to issue preferred shares because the preferred shares could be "misused" by the board to block a merger.
source:
WSJ