Former corporate raider Icahn now owns $2 billion of Apple's stock
30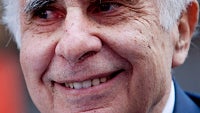 Continuing his crusade to get Apple to make a tender offer and buy back $150 billion of its shares, investor Carl Icahn now own 3.9 milion shares of Apple with a value of $2 billion. Throughout his career, Icahn's game plan is to find a company he believes is undervalued, buy a ton of its stock, and try to force the company into making changes to bring the stock up. And if Icahn can't force management to do anything, well, just the mere mention that he has bought a company's shares is good for a pop in the price.
Icahn has already met with Apple CEO Tim Cook and discussed the idea of Apple borrowing $150 billion at what would be extremely favorable rates, and then using the cash to buy $150 billion of Apple stock, essentially retiring those shares. With the number of shares outstanding reduced, earnings per share rises and the stock follows.
Following a dramatic decline in its shares from an all-time high at $710 set on the day that the
Apple iPhone 5
launched in 2012, Apple's shares were nearly cut in half this summer, before embarking on its latest rise to a current price of $528.
source:
USAToday