Apple takes a leaf from Google's book, adds contextual prediction to the keyboard in iOS 8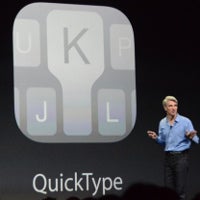 One of the several new features that were stressed upon
during the unveiling of iOS 8 at the WWDC
is the new keyboard, named QuickType. It comes with predictive suggestions and is touted as being able to guess the next word you'd want to input. All in all, this new functionality seems quite similar to the ones in Google's own Android keyboard,
LG's new Smart Keyboard
, and some popular 3rd party ones, such as SwiftKey, GO Keyboard, Swype, TouchPal X, Fleksy, and many more...
Still, Apple's QuickType will learn your typing habits on the device and won't do it from the cloud. It was said that this is being done in order to protect the privacy of the user.
iOS 8
will also support 3rd party keyboards
, so it will be rather hot on the iOS keyboard front
this fall
.
We are more than eager to test out QuickType and see how it fares against its cross platform rivals. You can check out some images of iOS 8's QuickType in the gallery below. You can also see what the refreshed version of Apple's OS has in tow for us
here
.
QuickType in iOS 8