iOS 8 is now official, marks a decisive step forward towards a more open Apple
67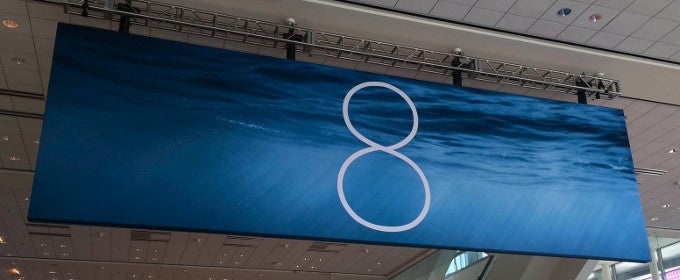 San Francisco is on fire, at least as far as the mobile industry is concerned, for the folks behind Apple are at it once again. Just hours ago, the company went ahead with the announcement of the latest major software update of their mobile operating system in iOS 8. Now, quite some new stuff has been added, and we'll have quite some time to talk about these in detail, but for the time being, we'll all have to settle for a quick overview and the promise of a more insightful, in-depth look at the new OS.
The notification bar received quite some love
iOS 8 brings actionable notifications.
Building upon iOS 7, which gave us the long-awaited Control Center, the new update will improve on a similar, very essential aspect: notifications. Now, notifications have obviously been around for a while, but new in iOS 8 is the ability to action those right from your notification bar. Put simply, you can swipe down on most any notification (including from third-party apps) and perform an action -- like reply to a text message, or comment/like a new Facebook post. This will also work right from your lockscreen where a simple horizontal swipe will unlock the app-specific options set.
On an even more exciting note, widgets will also (finally) make an appearance with iOS 8. These won't work quite like on Android, though, and will be limited to the Today tab on the notifications bar and nowhere else. Apple demo'd a few examples, like the ability to watch game scores in real time, or even bid on an item off eBay, again -- in real time.
Multitasking gets a nudge
Another important, and long-requested change are the few enhancements to multitasking. For example, the multitask menu will provide you with a quick access to your recent and favorite contacts, not to mention that these will also be actionable -- you can call, text, or initiate a FaceTime talk from that very menu.
Another handy addition is multitasking during e-mail composition -- you can now swipe down said message and continue accessing content already in your mailbox, and even add assets from another mail. Just as important, and quite relevant to multitasking, Apple is extending its "continuity" philosophy to its iOS devices. We'll have to wait out and see how far exactly will this continuity go, but so far Apple demo'd the ability to pick up incoming calls to your iPhone right from your iPad, along with messages and email.
Apple is opening up
Text messaging, and the general typing experience, have also been improved with iOS 8. Looking at the former, additions include the option for group texting -- you can create, name and leave groups at your whim, and the overall feature-set of the enhanced Messaging app is very reminiscent of popular third-party apps like Viber. For example, you can now share your location with the people in your group, send voice and video messages, and even access a centralized gallery of all the images that were sent during the course of a given chat, instead of having to dig through your gallery, or -- worse -- scroll indefinitely.
Going back to messaging, a very major component of it is accurate typing, which is something of a feat on a small-screened device with a software keyboard. To battle this, Apple's improved QuickType keyboard will offer predictive word suggestions, much alike to the growing crop of currently-available Android custom keyboard apps. Instead of just learning from your typing habits and intelligently providing you with word suggestions, however, QuickType actually analyzes messages sent to you, and adapts accordingly. For example, if you get a text from your wife, asking you to choose between grabbing dinner or going for a movie, the enhanced keyboard will instantly provide you with a quick word suggestions -- "A movie", "Dinner", or "Not sure".
Perhaps as impressively, the QuickType keyboard will analyze previous interactions with your contacts, and change the vocabulary set accordingly. With that in mind, don't be surprised if fancy, formal words are mostly suggested to you when communicating with a coworker, or, the very opposite when having a casual chat with your best mate.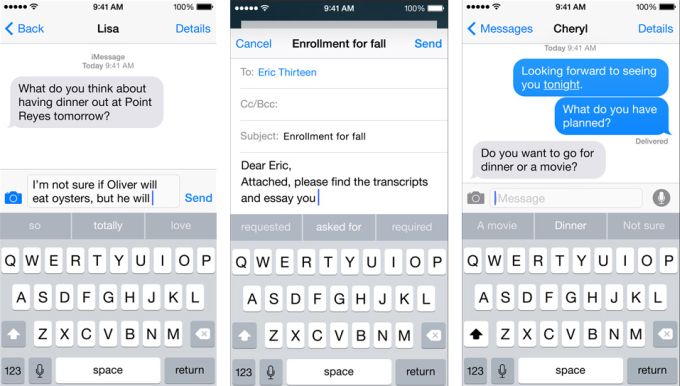 The new QuickType keyboard borrows a page from Android with word suggestions, and goes farther still.
Not impressed? Then rejoice -- Apple is finally allowing third-party developers to offer their own takes on the keyboard format through the iTunes store, though these won't be as free as on Android, and will be unable to connect to a network to provide extra services. Still, that's a major step forward, and one not typical of Apple.
Speaking of untypical, Apple surprised quite a few people with the changes it is making to TouchID, which is now open to third-party developers for use in their apps. All of that information will again be stored within the A7 chip, and while apps will be able to work with the fingerprint scanner now, they still
won't
have access to your actual fingerprint.
The new Health app wants you to be well
As expected, Apple is also making a decisive step forward as far as the fitness & wellness tracking category is concerned. Unlike what we expected, however, the hub that will attempt to grab and curate all of relevant information is called just Health, not HealthBook.
Developed in conjunction with the Mayo Clinic, the app will centralize all of your health and fitness stats from the various third-party wearables (yes, no iWatch just yet), down to procedure info provided by your local physician. Measured stats that we know of so far include heart rate, blood pressure, sleep data, and, of course, calories burnt. Health will store all of that information (including illness progress) over time in order to provide at-a-glance view to your physician, and not just yourself.
Say "Hello, Siri!"
Siri, the personal digital assistant that calls iOS home, has also received some welcome upgrades. Most importantly perhaps, you can now call on it by simply saying "Hello, Siri!", much alike to how Google Now has been working for a while on a few Android devices.
Apple didn't stop there, though, and Siri's extended feature set includes options like embedded song recognition (developed in partnership with the devs behind the popular Shazam app), make iTunes purchases by simply following your commands, and even control smart-connected parts of your home that have the new HomeKit API on board. Last, but not least, Siri now speaks and understands 22 additional languages, though the Cupertino folk didn't clarify which ones.
Header image courtesy of iMore.com