Apple offers an iPad-for-iPad 2 exchange to students and educators
4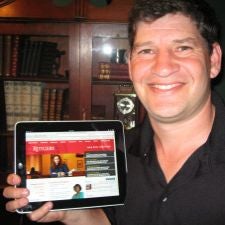 The
Apple iPad
, and the tablet in general, has proved useful to many different walks of life. Increasingly, students and educators are utilizing the iPad in the
classroom
to streamline their information sharing. Now, Apple is offering an exchange policy to certain institutions, which will allow them to trade their original iPads for a new
iPad 2
.
Rutgers' Center for Management Development is one such institution. Since July, Rutgers has offered classes that deeply utilize the iPad, including a digital marketing and a social media marketing course. As the course is scheduled to begin only days before the launch of the iPad 2, Apple has offered to let them trade in their iPads for the newer model.
The professor, Eric Greenberg, said that they "expected to have to tell the students that it was just unfortunate timing...But
Apple
really surprised [him] by being so flexible." Their local Apple store in Freehold, NJ is setting aside iPad 2s for Greenbergs students. Even more surprisingly, Apple isn't even charging a restocking fee for the exchange.
Greenberg is excited to be able to include camera-dependent features like augmented reality. Although he is appreciative, he does mention that they might still need another tablet, in order to incorporate Adobe Flash. We don't expect this kind of exchange to be standard fare, but if your institution recently purchased original iPads, you might as well look into requesting an exchange.
source:
Forbes