Apple iWatch concept shows the possible future of the smartwatch
26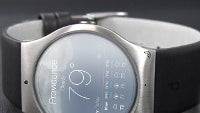 We've heard all about Apple's special group formed to allegedly work on the secret iWatch, but with no official confirmation we can only dream about what that device will look like.
Designer Stephen Olmstead took the time to dream big and actually illustrate his dreams in a beautiful concept. No fancy flexible displays and no sci-fi gibberish, the iWatch concept below is simple and looks realistic.
"My main focus here was to create a watch that... well... looks like a watch and not a rectangular screen bolted onto a watch band,"
Olmstead explained.
Apart from the gorgeous design based on the Skagen Classic Leather watch that is aimed to "maintain timeless, aesthetic simplicity", the concept theorizes Apple could use an e-ink display to achieve longevity and tether to an iPhone for extended functionality. To us, such a device would definitely enjoy some success - do you think that Apple can pull this off?
source:
The Verge Forums
(Stephen Olmstead)