Apple iPhone X was still on top of the smartphone world in March
99+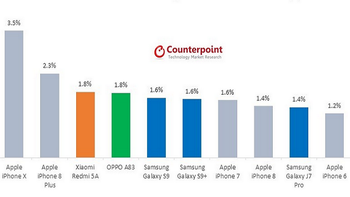 Counterpoint Research released its list of the top selling smartphones during March, the latest data available. Remaining on top during the month was the
Apple iPhone X
, with 3.5% of the market. In second place, with 2.3% of global smartphone sales for the 31 days was the
Apple iPhone 8 Plus
. And for the first time in history, Xiaomi was the proud producer of the top selling Android handset, which for March was the Redmi 5A and its 1.8% share of sales. The latter narrowly beat out the
Oppo A83
mid-range model.
Also in a virtual tie were Samsung's 2018 flagship phones. With 1.6% of the market each, the
Samsung Galaxy S9
and
Galaxy S9+
were the 5th and 6th top selling smartphones during March, respectively. Also grabbing 1.6% of sales was the
Apple iPhone 7
. That model, appropriately the seventh top seller in the month, was followed by its stablemate, the
Apple iPhone 8
(1.4% share of sales). The
Samsung Galaxy J7 Pro
was next, also grabbing 1.4% of the market in the month, followed by the
Apple iPhone 6
. The golden oldie still managed to capture 1.2% of global smartphone sales in March.
According to Counterpoint, while the iPhone X remained the leader in the "ultra-premium" segment of the market, the Galaxy S9 and Galaxy S9+ gave Sammy a shot in the arm in that category. In the premium market ($600 to $800 price level), Samsung doubled its share of sales. Chinese manufacturers such as Oppo, Vivo, Xiaomi and Huawei were the winners in the mid and low-end tiers.
The low-end of the smartphone market ($100 to $199 price) picked up thanks to strong performances in that category by Samsung, Huawei sub-brand Honor, and Xiaomi. Those three names made up half the sales in that niche of the global market.