Apple iPhone 6s and 6s Plus: the official cases and accessories
4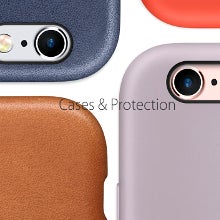 As usual, together with the brand new
iPhone 6s
and
6s Plus
, Apple announced a brand new set of cases, covers and other accessories that pretty much mimic the ones for their predecessors. The iPhone 6s and 6s Plus are a fraction of an inch thicker than the 2014 duo,
yet the cases are listed as interchangeable
, so this slight bump in thickness shouldn't prevent you from using the same wrappers.
We first glimpsed at exactly how much thicker would the iPhone 6s be from leaked schematics, showing a 7.1mm chassis, instead of the 6.9mm girth we have now on the iPhone 6, and the rumor proved true to the decimal point.
So far, Apple has outed two best case scenarios for its freshly-minted handsets - a more expensive Leather version, and the cheaper Silicone line. Check out a few of the current official iPhone 6s and 6s Plus cases and accessories, and rest assured that we will be updating these when new entrants appear.